Previous Symposiums
Can you believe that this will be our 14th year! We have come a long way from the small conference room at Cazenovia College!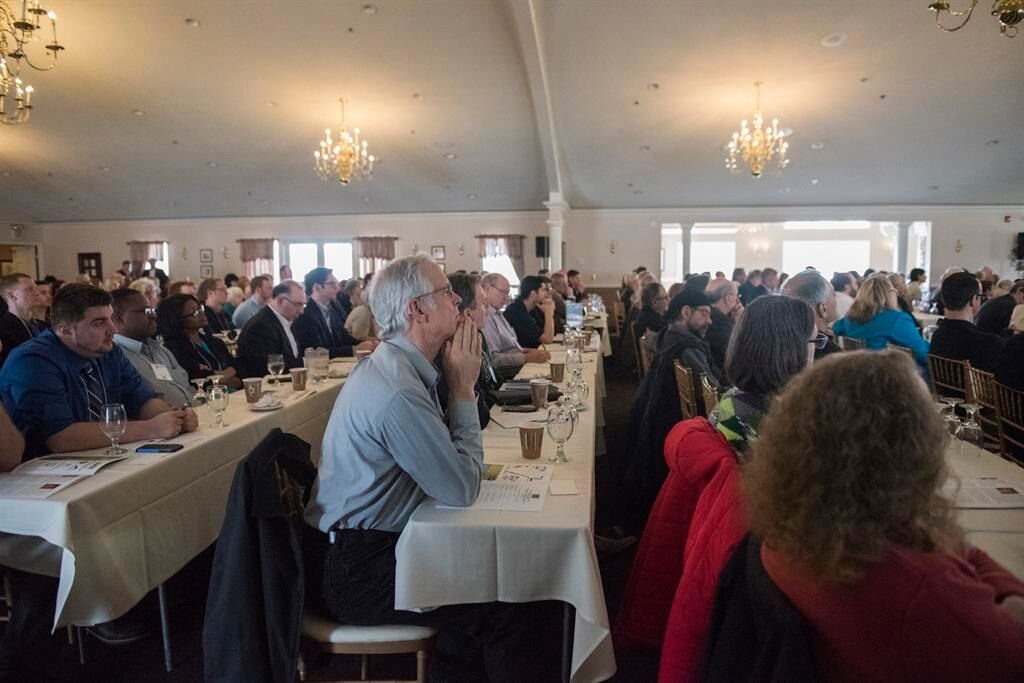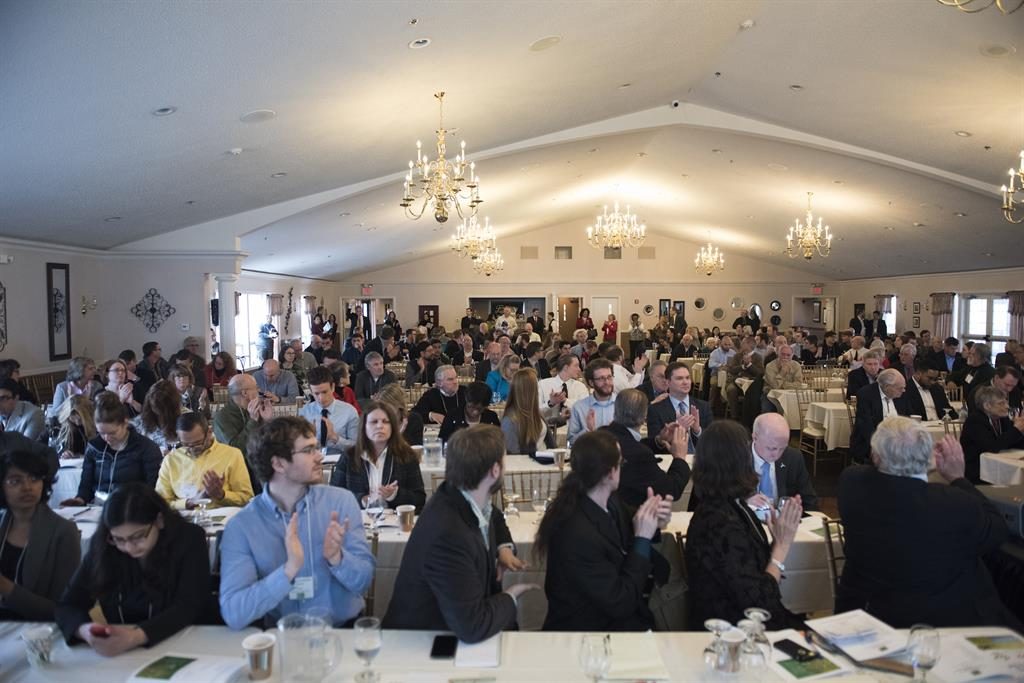 Thank you, Rhea. Another great conference and I am very appreciative of all the work you put into this. Bringing this conference and information to us on an annual basis is incredibly valuable.
Dear Dr. Jezer, I just wanted to thank you so much for putting together such a fantastic symposium last Friday.  It was beyond inspiring and gave me hope that maybe some of our problems could be solved if we collectively worked toward a sustainable future.  You were so gracious with every introduction and made us all feel like family.  Just a huge congrats for such tremendous effort and success.  Looking forward to next year!
The event is one of those sought for opportunities that fosters the form of dialogue that will lead to a sustainable climate and economic solutions and reduce those moments that allow opposition to be the dominate point of discussion.  I think it has become too easy to draw lines in the sand and depend on lobbying to drive sound policy; your approach was a welcome alternative to demonstrate that collectively we can solve many challenges and optimize many opportunities.
Rhea, I can't say enough about the day and the experiences it held for my students. Simply extraordinary. Being in the same room with the great minds you gathered was inspiring. Thank you for making us feel most welcome and acknowledging what I believe, that young people carry the creative spirit and keys to helping us move our energy and other challenges forward.
I could not be happier with the way things went Friday. Terrific! We definitely want to be part of next year. I have April 4 on my calendar, will avoid creating a competing WRVO event. We are uploading the conference audio to our server… they can go right to it and begin downloading the audio segments on-demand … We will definitely alert our 5,200 members that the site is available, both by e-blast and in our next quarterly newsletter. Congratulations, Rhea. I know that being associated with this event is a significant step forward for WRVO…Very exciting!
Wanted to take a minute to thank you for all your efforts in putting together another top notch group of speakers. It continues to grow and improve. I know you are up to the challenge of making the 10th annual even more awesome!
I just wanted to drop you a quick note and congratulate you one more time on a fantastic event. I don't know how you do it, and make it look so easy. The speakers were terrific and the information was fresh, informative and understandable. Thank you for letting us be part of your important work. Count NYBS in for next year!
Congratulations for a powerful day that will bring many more to the table as champions for this critical work.
Rhea, your energy and your organizational skills never cease to amaze me. Thank you ever so much for organizing this annual energy symposium. Keep up the good work.
Richard Kauffman

Richard Kauffman is the state's first Chairman of Energy and Finance for New York, or "energy czar." He leads NYS's comprehensive energy policy effort known as Reforming the Energy Vision (REV).
REV includes regulatory reform to modernize the energy and utility industry, a ten-year commitment to support renewable energy and efficiency markets through the $5 billion Clean Energy Fund and other initiatives including the NY-Sun solar program and NY Green Bank. Through REV, NYS has enacted a Clean Energy Standard mandating 50% of the state's electricity come from renewable sources by 2030. These efforts will enable greenhouse gas emission reductions of 42% by 2030. Mr. Kauffman oversees and manages the state's compete portfolio of energy agencies and authorities, comprised of the Department of Public Service (DPS), the NY Power Authority (NYPA), the Long Island Power Authority (LIPA), and is Chair of the NYS Energy Research and Development Authority (NYSERDA). As the state's most senior energy official, Mr. Kauffman was New York's lead delegate in Paris at the 2015 United Nations Climate Change Conference, or COP21.
Mr. Kauffman formerly served as Senior Advisor to Secretary Steven Chu at the U.S. Department of Energy.
Previously he was CEO of Good Energies, Inc., a leading inventor in clean energy technologies, a partner of Goldman Sachs where he chaired the Global Financing Group, vice chairman of Morgan Stanley's Institutional Securities Business and co-head of its Banking Department.
Mr. Kauffman served as Chairman of the Board of Levi Strauss & Co, on the boards of organizations including the Brookings Institution and the Wildlife Conservation Society, and is member of the Council of Foreign Relations.
Mr. Kauffman received a BA from Stanford University, an MA in international relations from Yale University, and an MA in public and private management from the Yale School of Management.
Thomas P. DiNapoli

Thomas P. DiNapoli is the 54th Comptroller of the State of New York. He is widely known for his integrity, independence and steadfast leadership. Since taking office
in 2007, Tom DiNapoli has aggressively fought misuse of public resources, strengthened one of the nation's top public pension funds, and consistently spoken out against fiscal gimmicks, imprudent actions and government inefficiency.
      Comptroller DiNapoli has been an environmental leader his entire career. He has brought his passion for environmental quality to his present role as Comptroller. His Green Initiative promotes energy efficiency, purchasing low environmental impacts products and reducing government waste to protect the environment and taxpayer dollars. The program determines whether the implementation of environmental programs by State and local government is consistent with requirements, and identifies opportunities for State and local government to protect and save money. It also promotes improvement in environmental performance by companies in the Common Retirement Fund (CRF) investment portfolio on crucial environmental issues such as climate change, to protect and enhance the long-term value of the Fund's assets. The Comptroller makes sure that CRF invests in renewable energy and other clean technology companies that meet CRF investment criteria. Since taking office, Tom has identified billions in misuse, waste and savings in the state.
      Prior to becoming Comptroller, Tom DiNapoli represented the 16th Assembly District in northwestern Nassau County for two decades. During his tenure, as chairman of the Environmental Conservation Committee, he earned a reputation as one of the State's leading voices on environmental issues.
      Tom DiNapoli holds a master's degree from The New School University's Graduate School of Management and Urban Professions and B.A. magna cum laude from Hofstra University.
Janet Joseph

Janet Joseph is the Vice President for Innovation and Strategy at the New York State Energy Research and Development Authority (NYSERDA). Ms. Joseph overseas multifaceted research and market development programs, focused on catalyzing partnerships to increase innovation and investment in clean energy in New York.
      Janet has over 25 years of experience in clean energy. Ms. Joseph has held technical, policy and leadership positions at NYSERDA, where she has spearheaded initiatives to develop renewable power in New York, build a clean tech start up industry, and identify greenhouse gas reduction strategies that provide benefits for New Yorkers.
      Prior to joining NYSERDA, Janet was a research scientist at Battelle Pacific Northwest Laboratory. She worked on a range of energy and environmental technology and policy issues from cleaning up hazardous waste to global climate change. She also worked as an environmental management consultant for Booz Allen Hamilton in Washington, D.C.
       Ms. Joseph serves on the Board of the Clean Energy States Alliance as well as advisory groups for the Electric Power Research Institute and the New York State Center for Future Energy Systems at Rensselaer Polytechnic Institute.
      Janet Joseph holds a Master's degree in Environmental Chemistry from the University of Maryland and a Bachelor's degree from State University of New York at Oneonta.