Tours at 2pm – Registration for Symposium Required
Add a TOUR to your Symposium registration for an added experience. Tours leave by "clean" bus at 2pm to take you to the tour and return you to your car (approx. 3 hrs. including transportation). Tours are open only to attendees of the Symposium.
*NEW* 

ROSAMOND GIFFORD ZOO SUSTAINABILITY AND ANIMAL CARE

A private tour has been arranged to give attendees a look at how the Rosamond Gifford Zoo focuses on sustainable practices. Learn how your local zoo works to protect and care for endangered species while also protecting our environment. You will be able to see the zoo's 'green' infrastructure which includes North American's only elephant pool whose bio-filtration system and retention field allows it to filter 50,000 gallons of water three times an hour with zero impact on municipal water and sewer systems. The zoo also boasts several of Onondaga County's biggest Save the Rain projects, which save huge amounts of energy in wastewater treatment by capturing and conserving over 6 million gallons of rain water runoff each year. Please wear closed-toed shoes and be prepared to walk the zoo's Wildlife Trail (which has recently been under renovation).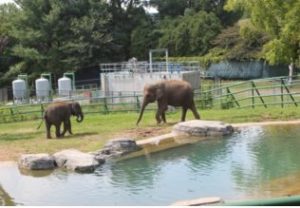 FENNER WIND FARM & FREE CENTER
The Fenner Wind Farm tour will be given by Russ Cary, former Supervisor for the Town of Fenner. Russ worked with the wind farm developer beginning in 1998 and was town supervisor for 14 years. He will give some background and history of the development and operation of the wind farm, while traveling by bus on route to the Fenner Wind Farm and FREE Center (Fenner Renewable Energy Education Center) which is located within the wind farm. This tour will also visit Madison County's gas to electricity facility, and the ARE Park (Agricultural Renewable Energy park) located at the county's landfill if time allows. Russ will be open for questions throughout the tour including while traveling on bus. This tour will take 3 1/2hrs with round trip transportation to facility and back to Symposium site.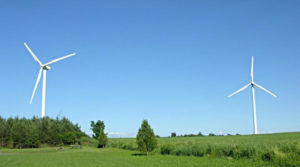 SYRACUSE UNIVERSITY L.C. SMITH SMART GRID LABORATORY
Distributed energy sources show great potential to meet the power demand of the future as well as lower overall energy costs. Integration of renewable energy sources into the electric grid can be difficult because of source intermittency and inconsistency. The Smart Grid laboratory consists of a microgrid with wind and solar energy conversion and control, energy storage and control, transmission and distribution network with feeds and smart meters, static and dynamic load, and a power factor correction device. In addition, synchrophasor measurement technology is implemented in the Smart Grid lab. Dr. Tomislav Bujanovic will host the group and show this excellent teaching facility. Space is limited.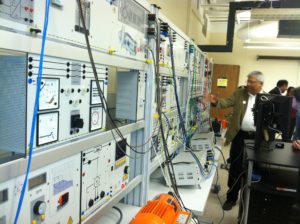 TOUR OF ANHEUSER-BUSCH BREWERY
The Anheuser-Busch brewery in Baldwinsville, New York, has received several awards to recognize successes in reducing its environmental impacts by operating more efficiently and pursuing the use of alternative fuel sources. It received the OCCRA Blue Ribbon Recycling Award for 100% recycling and waste minimization programs, has extensive heat recovery systems and full waste water treatment with biogas collection and indirect potable water reuse. Tour will include brewing, utilities and operations along with sampling of the finest Central New York made beers (for those over 21 years of age). This tour will take up to 3 1/2hrs with round trip transportation to facility and back to Symposium site.